The Millennium Development Goals (MDGs) are eight goals to be achieved by 2015 that respond to the world's main development challenges. The MDGs are drawn from the actions and targets contained in the Millennium Declaration that was adopted by 189 nations-and signed by 147 heads of state and governments during the UN Millennium Summit in September 2000.
The Millennium Develop Goals were created to apply to all developing countries, and consequently are broadly defined. In 2003 Cambodia localized the MDGs, and tailored them, through a process of national consensus, to meet the specific development needs of the Cambodian people.
For example, in addition to the eight main MDGs that apply to each country, Cambodia has added one more. Recognizing that one major constraint to development is the continued mine and unexploded ordinance (UXO) contamination in 12 per cent of Cambodian villages, de-mining was added as the ninth major development goal.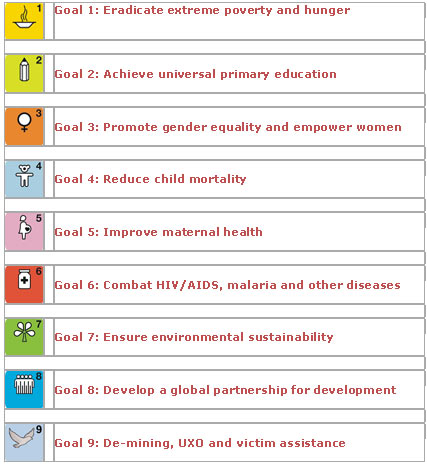 OEC has well studied the UN MDGs, its steps for action and indicators, and then comprehensively analyzed the Cambodian MDGs located by the Royal Cambodian Government with its summary of key development indicators and the targets. Additionally OEC has studied the overall guidance provided by the Council for Social Development, plus the specific MDGs determined by Education Ministry and Social Affairs in the view of orientating its operations in accordance with national and international policy following the spirit that Cambodia is a point among the whole global world, but not separable.
The eight main UN and national MDG have been clearly discussed among OEC staff for comprehensive inter-cooperation and mutual assistance with international and national agencies aiming at succeeding final goals by 2015 through activities complementary to what planned by Royal Government, but still in gap or not completely achieved.
OEC, taking this opportunity, expresses its grateful thanks to EC, UNICEF, SCN, USAID/KHANA/Alliance, Adopt-A-Minefield and Foundation of Sehmitz-Hille-Stiftung who have assisted OEC in participation with MDG1, 2, 3 and 9, and to International Catholic Child Bureau (BICE) who has assisted OEC in fighting ignorance to succeed MDG 1 and 2, and finally to Global Fund/Family

Health International who has supported OEC in MDG 3, 4, 5, 6.

The main challenges of MDG 2 suggests developing rural livelihood fixing people in their land by systematic irrigation to increase agricultural production, and alleviate poverty to liberate children to attend classroom.

The remote areas still need classroom buildings and educators shaped by strong methods of child-friendly school and community mobilizers.